2021 was the "resurgence" of normalcy after the hurricane that was 2020. But as we know, pre-2020 normalcy will never come back.
With the rise of employees fighting for better pay and benefits in the workplace to education realizing that technology is its bloodline, and politics solidifying as two polar opposite sides with no in-between, society is experiencing a evolving shift. It is leaving behind anyone who likes the "good old days." And of course, music is not far behind. With Live-streamed concerts, NFTs signed by singers, and animated album/single artworks, the music industry faces a new horizon that is bigger than the shift from physical to streaming from the 2010s.
The four albums were chosen not only because they were my favorite listens of the year, but these projects show the shift that production and genres are mixing endlessly, and that there is a balance between trend/chart chasing and authenticity.
If I Can't Have Love, I Want Power by Halsey
Alternative/pop singer Halsey's 4th studio album was a frisbee that no one was expecting to come flying out. If I Can't Have Love, I Want Power is a true masterpiece that, years from now, will be seen as a staple of artistic growth. And I say this as a former Halsey hater, who thought her shtick on the BADLANDS era (her debut album) was a cheap Lana Del Rey tribute, specifically her single New Americana. Regardless, when Halsey released her single Nightmare in 2019, my entire opinion of her changed, and I was surprised as to how much I have been missing. I have never heard such a raw and angry song (lyrically and sonically) in the pop sphere in years, and that whiplash came back again with album #4.
IICHLIWP is a thunderous reinvention sonically but still the same lyrical Halsey (in a good way). The album's theme centers around the trial and tribulations of her pregnancy with her first child. A huge note of this album is that it was produced by the Nine Inch Nails duo Trent Reznor and Atticus Ross. An essential rock band best known for their trailblazing industrial rock production that since the late 1980s have even influenced music giants like David Bowie and Axl Rose. In the past decade (the 2010s), the band focused on movie soundtracks like the social network and Disney Pixar's Soul. So, when Halsey made a handwritten letter to the duo, who rarely collaborated with mainstream artists, they accepted the challenge.
The entire album relies on a world of spacy, heavy synths that makes for glorious listening. Opening track, The Tradition, is a sinister medieval soundtrack with a clanky piano, with Halsey explaining the story's setting. Bells in Santa Fe is one of the best songs that build up and cut off at the end. Easier than Lying, Girl is a Gun, You asked for this, and honey are straight punk tracks that have a dark grunge cloud above them, fitting in just right with the more electronic tracks in the rest of the album.
I am not a woman, I'm a god (the lead single) is the most hypnotic track to come out in 2021. The production is basic, tribal, and clunky at first listen. But over time, you can appreciate the brilliance of a pop song meshing electronic rock. And of course, Halsey just blows it out of the water with her vocals in this album. If she sounds bad on any track, it is done purposefully. That is how we can tell her emotions are raw.
IICHLIWP is what happens when an artist trusts their instincts to dare change their soundscape, regardless of the repercussions. It is my album of the year.
My favorites: I am not a woman, I'm a god, The Tradition, Bells in Santa Fe, Lilith
Scaled & Icy by Twenty One Pilots
The band's fifth record, TRENCH (2018), is, and let's be honest, their magnum opus. Building upon the experiences from his music work as a singer, songwriter, and producer, frontman Tyler Joseph released an album with an entire universe of lore that connects BLURRYFACE (2015) and whatever comes after the 2018 blockbuster. And here we are with album number six, Scaled & Icy. At release, the album was so controversial among the fans that it took time for some of them to even say they liked one song off the album.
I will jump right in and say that many of the tracks in this album felt like they were commissioned by Fueled By Ramen (the bands' record label, owned by Warner Music) to be radio hits and chase the currently loved Disco trend that Dua Lipa and The Weeknd capitalized off so well in 2020. Regardless, Shy Away and Saturday, two singles off the record, are the first tracks from the band that I can play at a party and have the entire crowd dance. And there is nothing better than being able to play your favorite singer's music (that is generally for personal listening) at a party.
The album is the continuation of TRENCH's storyline, where the main character is captured again in the world of DEMA. Which is an allusion to being a prisoner in your mind, such as when a person is battling depression, after failing from entirely escaping back in the TRENCH storyline. The character is a controlled puppet telling everyone they are ok. This is why many of the songs are rather cheerful or poppy-ish, sounds not entirely found in the band's discography.
You have tracks like the mentioned Saturday that is glitzy disco, Shy Away, an 80s rock track which parallels the production to The Killers or All Time Low. Meanwhile, Mulberry Street is pretty much a tribute to Joseph's favorite musician Billy Joel (and one of the album's better tracks). Never Take It is a social commentary-type track where we the people should not take the abuse of the ones above us. A track that is very open to interpretation, where a few people took it overboard and thought this was Joseph was saying no to COVID vaccines [let us giggle and shake our heads at that one].
Good Day, Redecorate, and Chocker are heavy tracks on topic. With Redecorate being about whether a mother should move around her dead son's belongings or leave it paused in time.  So, there is, in fact, something for every fan in this album. The band is knowns for having "happy music with sad words," so, in the end, the backlash over the album's sound palate was somewhat confusing.
The production of this album is to-par with TRENCH, a lot of organic instrumentals, specifically guitars, piano, and bass. 80s synths infect tracks like Chocker and Shy Away, while a bad attempt recreating a heavy trap bass track (No Chances, which feels like a TRENCH leftover) breaks the album. Since the album was done during the COVID pandemic, the attention to detail and background notes are excellent. Lyrical-wise, I must agree with the fans that Joseph's penmanship falls flat in many songs. But I believe this album is more about the music's mood than relatability. Joseph stated that the next album will be the last to center on the DEMA lore, and I am sure it will parallel TRENCH lyric-wise. In the meantime, I will be dancing on Saturday at my New Year's Eve party.
My Favorites: Shy Away, Saturday, The Outside, Mulberry Street, Redecorate
Blue Banisters by Lana Del Rey
Variety awarded Lana Del Rey Artist of the Decade this December, and for a good reason. Just like Kanye West opened the gates to artists like Drake and Kid Cudi, Del Rey, in par with The Weeknd, helped open the gates to artists such as Billie Eilish, Lorde, Melanie Martinez, and countless other new alternative musicians. Adele, Cat Power, Bruce Springsteen, Taylor Swift, Stevie Nicks, and many other industry giants have acknowledge or praised that Lana is a once-in-a-generation songwriter.
2019's Norman F*cking Rockwell is hailed as Lana's best work to date, and anticipation for what would come next after that blockbuster hit was significant. Chemtrails Over the Country Club was an initial 2020 release. Still, the album came out in early 2021 due to pandemic issues… with mixed reviews. The album felt like, and it was (said by leading producer Jack Antonoff himself in a December '21 interview), leftover tracks from the NFR sessions. The album is packed with too many ballads, and multiple lyrics were a bit too on the nose or just clunky; Chemtrails was a mind space Lana had found to be comfortable where evolution is unnecessary. But surprisingly, in April, Lana quickly announced the next record, Blue Banisters (originally titled Rock Candy Sweet).  After getting into more internet drama, Lana stated that B.B. would be the angry and raw response to the backlash from the Chemtrails era.
Now that it has been a few months past the album's release, I can personally say the album is miles better than the previous effort of this year, Chemtrails. Although the "angry and raw" is not punk rock screamo, Lana's lyricism has bounced back (at least somewhat). She mentions the turbulent relationship with her mother, something she hasn't done since her 2006 unreleased song My Momma, under her first alias May Jailer. She speaks of her weight gain (and the taunting fans and the media has done over it) during the COVID pandemic in Black Bathing Suit. And how Black Lives Matter has changed society's course in the eyes of an affluent white songwriter in Text Book.
The album is full of captivating melodies. Even the slowest piano ballad has a sense of hope with the bpm enthralled in the instrumentals. Wildflower Wildfire is a track that builds up and at the end has electronic, glitchy echoes that allude to the release of pain in one's heart. Text Book sonically is a track that Nancy Sinatra would have made as a swan song; gloomy guitars, heavy drums, airy vocals. If You Lie Down With Me has these hauntingly beautiful 1920s-esque Jazz horns towards the end of the track. The only Interlude in the album, The Trio, samples "Il triello" by Italian composer Ennio Morricone for the movie The Good, the Bad, and the Ugly, which turns it into a bombastic trap track.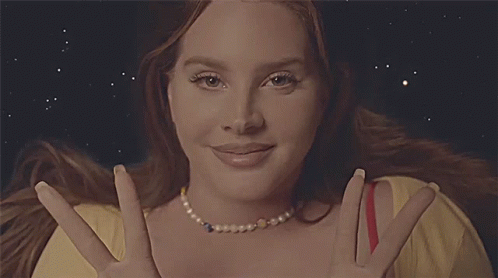 An interesting point of the album is Dealer and Thunder. In 2017, Lana made a [unreleased] collaborative album with The Last Shadow Puppets, a duo composed of singer/songwriters Alex Turner and Miles Kane of the Arctic Monkeys and The Rascals, respectively, and producer/drummer James Ford from Simian Mobile Disco (Genius.com). Dealer has Lana vocally wailing, something not heard since her 2008-2010 Lizzy Grant days. Miles Kane sings alongside Lana, hollering out loud as to why her lover is not matching the amount of love she has given him.  Thunder, whose demo leaked in the summer of 2020, comes in with a melancholy chord progression and a trio of vocal background singers. In here, she tells her two-faced lover to break up with her and make it quick like thunder. The demo of Thunder is gloomy, emotional, and beautiful, while the released version is sunny, hopeful, but still beautiful.
Overall, Lana is back on track with her music capabilities. She recently told a fan that her next album will be her best yet. Many fans and I are waiting for a total sound switch, and we can only wait and see.
My Favorites: Thunder, Dealer, Wildflower Wildfire, If You Lie Down With Me
MONTERO by Lil Nas X
I do not think this one needs much introduction. After having a gigantic song break out in 2019, spending 19 weeks at #1 in the Billboard Hot 100 chart, many wrote off Nas X as a one-hit-wonder. Thankfully, Nas X is a master at marketing and online trolling. The next singles of his 7 E.P. and debut album MONTERO suffered no true failures.
For a debut album where Nas X's main allure is being a hip-hop rapper, the album is a mashup of genres and sounds. The features on the tracklist show this, and surprisingly, this makes an excellent case for what one should do when building a pop-leaning hip hop album. INDUSTRY BABY has a production helping hand from Kanye West, while ONE OF ME has piano strokes from Elton John. Jack Harlow, Doja Cat, Megan Thee Stallion, and Miley Cyrus provide vocal features that bring flavors for all music listeners.
DEAD RIGHT NOW, ONE OF ME (one of my top favorites), SUN GOES DOWN, and other tracks are about self-reflection of the upbringing of Nas X as a [black and gay] child and the tribulations of fame post-Old Town Road. Gospel, a piano ballad with trap production, grunge rock, and Spanish guitars are just a sample of sounds that compose the box that is MONTERO.  THAT'S WHAT I WANT is an infectious 2000s-pop track that Britney Spears or NSYNC would've purchased from a songwriter with no hesitation. SCOOP with Doja Cat asks us if we have ever seen someone hit Pilates with braggadocios emotion. LOST IN THE CITADEL is a pop-punk rock track that takes on the genre so well. A breakup song, no anger is shouted in here; Nas X sings in his lower register, where the listener can feel his pain.
The production duo that has worked with Lil Nas X, Take A Day Trip are promising producers. Their work on this record is the most enormous feat for the duo, which does not reek of amateur work. The success of their other Nas X work, such as Panini and Rodeo, helped the trio get better studio equipment, settle in Los Angeles, and go all-in on the music.
MONTERO and INDUSTRY BABY, the biggest hits of the year, are sonically great songs when you take out the music videos and the "controversies" both tracks brought. The only controversy is being a prude in the year 2021.
It is honestly hard to tell what Lil Nas X's music will sound like in the future. Will he stick with the genre-bending he has currently pulled (and proven successful), stay in the hip hop genre, or do something else altogether?
My Favorites: INDUSTRY BABY, SCOOP, ONE OF ME, THAT'S WHAT I WANT, LIFE AFTER SALEM
Other 2021 Albums to check out:
Happier Than Ever – Billie Eilish
SOUR – Olivia Rodrigo
Ancient Dreams In A Modern Land – Marina [and the Diamonds]
Chemtrails Over The Country Club – Lana Del Rey
Call Me If You Get Lost – Tyler The Creator
Heaux Tales – Jazmine Sulivan
Daddy's Home – St. Vincent
Solar Power – Lorde
30 – Adele
Dancing With The Devil – Demi Lovato
Voyage – ABBA
Lady Jesus – UPSAHL
Lately I Feel Everything – Willow