There is no actual need to introduce the musician I will be writing about today. Madonna, rightfully labeled as the Queen of Pop music, has been a trailblazer in many aspects of her career.
Before we start with the countdown, I wanted to share this rap sheet that details Madonna's career by the numbers (as of August 2021). Truly and honestly impressive. Madonna's discography is one the foundations that helped so many modern female pop artist be able to release the music that they have been able to create and put out.
A big shout-out to THE HOT SHEET on twitter for making this; they make graphics for a bunch of other artists.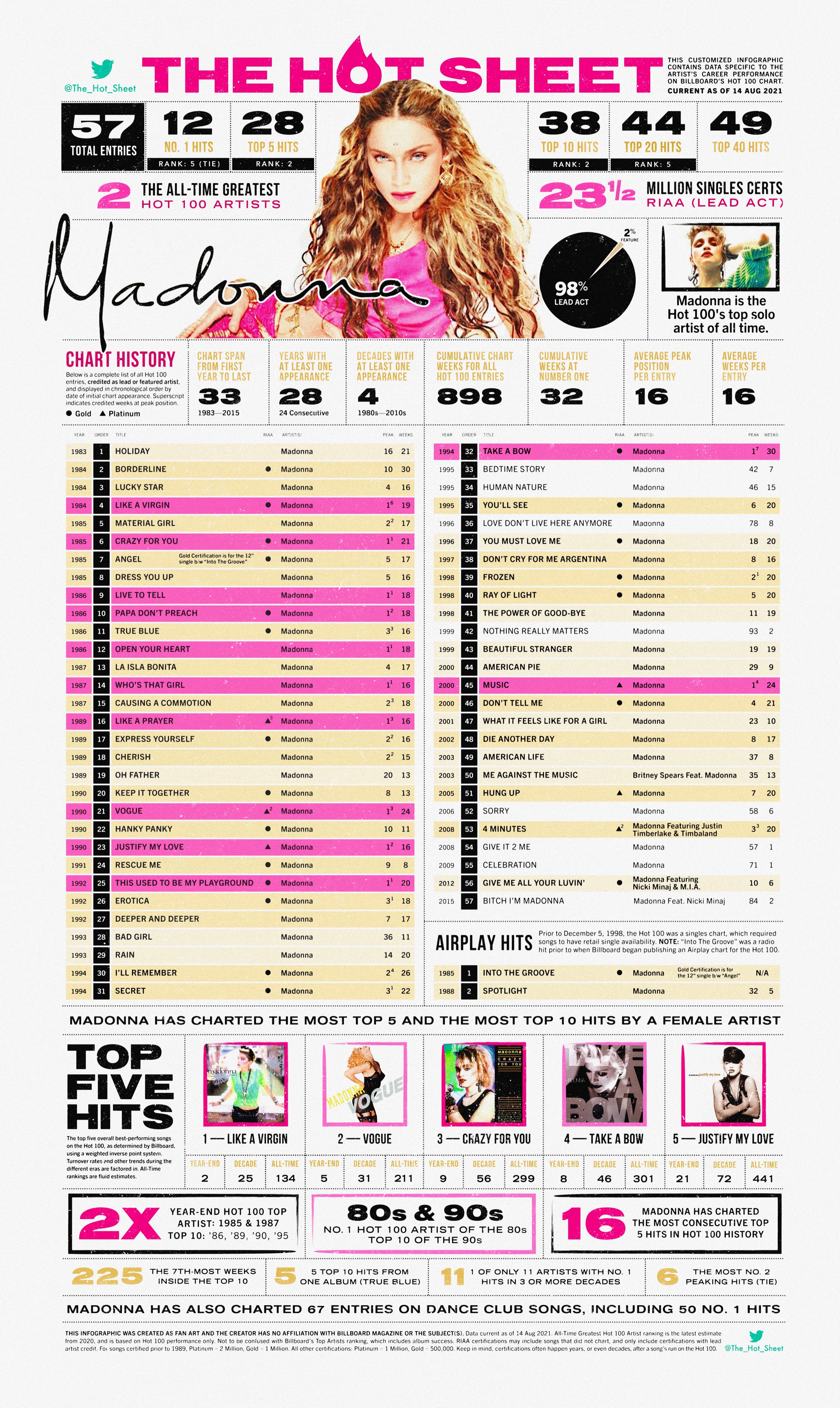 She has been loved, enamored, criticized, outright hated, and cursed out. Regardless, she has prevailed and has had a successful life-long career in the music industry, spanning 14 albums and 12 world tours. With the number of songs she has in her catalog, it can be overwhelming to go through each album and pick what songs are good and those that are not. Of course, there are countless blogs, magazine articles, podcasts, and YouTube videos of Madonna's top songs. Of course, I wanted to join in. For most of 2021, I listened to Madonna's album catalog, excluding soundtrack albums. And in this journey, I couldn't believe the amount of music I had been missing out on. So many songs on her discography brought out underground sounds and aesthetics, and having a megastar hop in regardless of the public response was a bold move. No doubt that Madonna has hopped in on countless music trends that died out in 6 months; this is quickly forgettable when she has equally presented unknown sounds to the world stage.

This list is my personal top 5 songs by Madonna. Some choices will be apparent mega-hits, but even those are far from "basic" pop songs. Just know that there are more incredible songs; it is simply too hard to choose from so many songs in her discography.
5. Like A Prayer
Like a Prayer was the breaking point between basic pop star and a artist with a vision. Like a Prayer was the lead single off Madonna's fourth studio album of the same name. Released in March 3rd of 1989, the song (and the infamous music video) took the world by storm. Critics called the song a game changer and a artistic growth to Madonna, while the prudes of the world were so salty about it that they…. protested it (probably picketing in front of some random building). Regardless, the song with sexual innuendos and the instrumental embarking more-so the end of the glitzly-80s rock era, LAP was a game changer for sure.
As much as I try to describe instrumentals of songs, this one is a bit hard. A short guitar solo starts the song off with an abrupt change with Madonna singing in a gospel-like mood at the intro. The song quickly switches to the chorus, which is a full 80s banger. The verses have a choir humming and giving soft "ooohh's" where they join Madonna in singing the 3rd chorus. The bridge has the choir sing more lively, with a guitar aiding the synths. The outro is finished by said choir as they vocally ride off into the sunset.
The lyrics were written by Madonna to have double meaning, sexual and religious, and it was her mission to "ruffle feathers." Something in which she definitely accomplished with the help of the music video that added more fuel to the fire, per say. You can watch it below if you have not seen it yet. If you are religious, be prepared to feel irked… that's if you let the video do so.
PS: Although his vocal and guitar contribution is well-noted in another track from the same album, Love Song, Prince is an uncredited guitar player in this song.
4. Deeper and Deeper
Deeper and Deeper is the second single from Madonna's fifth studio album Erotica. A very controversial album of its time, Madonna goes all out on the topic of sex, allusions of homosexual romanticism, and overall sexual fantasy (let's not forget Sex, the infamous erotic photography book she published alongside the album). May critics through the years have realized how well-made Erotica was and how of a natural evolution it was for her career music-wise. It has been a misrepresented album where the backlash over her sex book overshadowed the music (that, in all honesty, is not even wild for 1992). I chose Deeper and Deeper as one of my top songs because it is simply that good. This song is what one expects to hear at a gay club. The emotions that one feels listening to this song coincide with those of liberation and carefreeness. The lyrics center around a man's sexual awakening and queer self-acceptance.
With a sequence of G7–Cm7/G as the chord progression, the song is upbeat but groovy at the same time. With the oversaturation of disco back in the 1970s still fresh on many minds, and the lyricisms being rather edgy for its time, the song was quite successful, regardless of the overall pushback from many American audiences. The middle 8 switches up the flavor, an instrumental break with a hint of Spanish flamenco that elevates the song to a new level.
Researching for this song, this tid-bit just shows how going with your instincts can work out for the best:
At first, Madonna did not like the songs she had recorded. She wanted Erotica to have a raw edge to it, as if it were recorded in an alley in Harlem, and not a light glossy production to permeate her sound, according to Pettibone. The first recorded version of "Deeper and Deeper" was not working for Madonna. Pettibone said they tried different bridges and changes, but in the end, Madonna wanted the middle of the song to have a flamenco guitar. Pettibone recalled:
"Deeper and Deeper" was one of those songs she always had a problem with. The middle of the song wasn't working. We tried different bridges and changes, but nothing worked. In the end, Madonna wanted the middle of the song to have a flamenco guitar strumming big-time. I didn't like the idea of taking a Philly house song and putting 'La Isla Bonita' in the middle of it. But that's what she wanted, so that's what she got.
Background and Development – Deeper and Deeper, Wikipedia
3. Push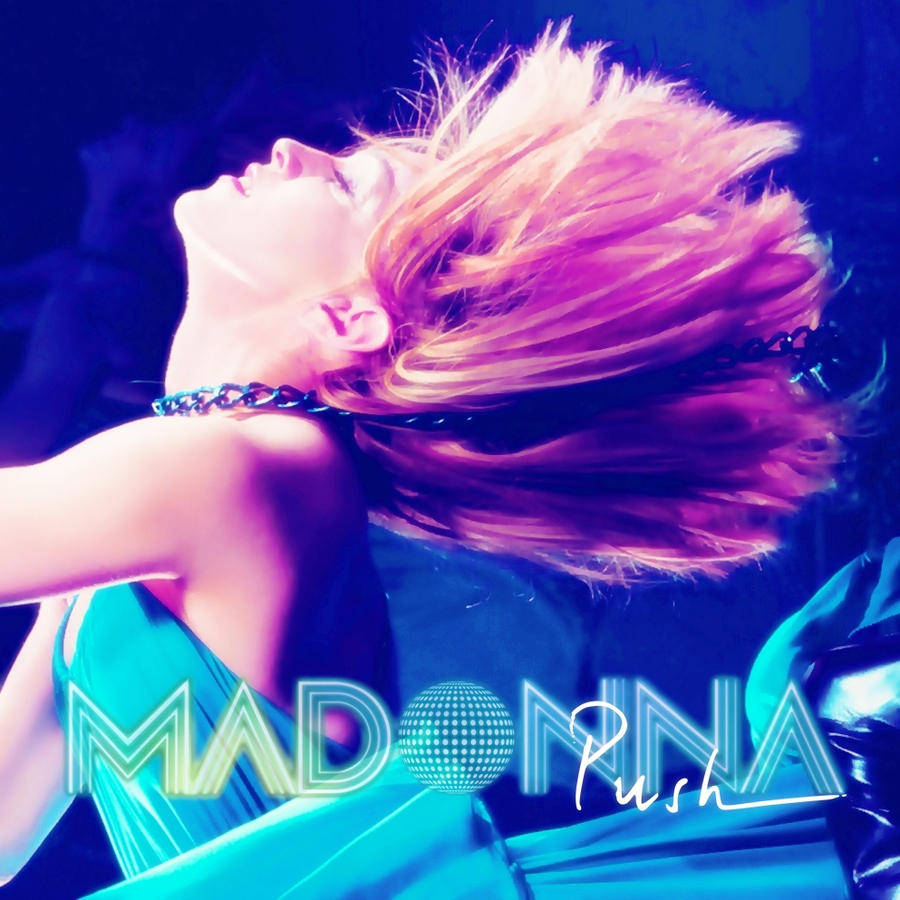 Push is one of those songs that sounds outright weird and pointless, but after a few listens back-to-back, you realize the genius of it. The quickly-rising synths that act as the chord progression and the male, robotic backup vocals are just some of the multitude of textures this song brings to the table. Another album cut, Push, was produced by Stuart Price. He brought the sound of disco and dance into the Confessions on a Dance Floor album (and has done the same for Kylie Minogue and Dua Lipa). The song is like an enchantment, where Madonna declares that her love is the reason she keeps moving forward. The song feels like an updated version of the sounds from Ray of Light, having Southern Asian influences. The xylophone-esque sound in the verses is heaven-like.
Apart from the instrumental and chord progression being euphoric, the lyrics and theme of the song are rather peculiar. It is not often that a song speak about a lover in a thankful way. Specifically in a way that talks about helping the singer become a better version of themselves:
You push me, a better version of myself
You push me, only you and no one else
You push me to see the other point of view
You push me when there's nothing else to do
You push me when I think I know it all
You push me when I stumble and I fall
Keep on pushin'
Like nobody
Even tough for many, this song does not scream "innovative," for me it is a fun song that intertwines the classic disco and modern pop (for the time of its release, 2005) intricacies. If you are looking for a more "smart disco pop song," Isaac may be the track for you.
2. Hung Up
Used as the prime example of what a comeback single is, Hung Up took the world by storm when it was released on October 17, 2005 as the first single of Madonna's Confessions on a Dance Floor. Madonna had an idea for a song, and the only way to execute said idea was to sample the iconic disco track Gimme! Gimme! Gimme! (A Man After Midnight) by ABBA. She personally wrote a letter to the band, in which they agreed to be sampled, the second time in history for such a thing to occur. The introduction of the ABBA instrumental is what composes the majority of Hung Up. The catchiness of the chord progression of this "whistle" is what gives Hung Up this somber, bittersweet sound ala crying in the club vibes. The smart use of a ticking clock to parallel the lyrics of time being the barrier to love and happiness is just clever.
The electronic glitches in the bridge and the slow, dark tempo takes you on a vivid journey that few songs do. The listener can picture themselves in a dark club, waiting to see if the person they are in love with will show up as a testament of whether the other person even loves the main character back. Simply put, this is one bad-ass gay club song.
1. Ray of Light
Ray of Light. The album and single of the same name are one of the biggest reasons why electronica music broke out to the mainstream, especially in the North American market (Europeans have been at it for years). The story of how the song came about is a shocker. In 1971, a British duo by the name of Curtiss Maldoon (Dave Curtiss and Clive Maldoon) released an album that was met with negative critical dismay. A few years after, Maldoon passed away and the music was forgotten.
In the 1990s, Maldoon's niece Christine Leach was a singer and discovered a favorite track from her uncle's album, titled Sepheryn. She sang a "gentle" version/rough demo of the track over an experimental beat made by producer William Orbit. He was not a sought-after producer aside from his well-made official remixes of Madonna and other artist songs. At the same time, Madonna was going through a life evolution. Fresh off the successful movie Evita, Madonna has gone through vocal training, giving birth to her first child, and the unfortunate passing of her mother. These events made Madonna have deep self-reflection and switch up her image. Someone had suggested Orbit to present some of his original material to Madonna. Out of the 13 tracks shown to Madonna, the demo for Sepheryn caught her attention the most. Having begun work for her album with producers such as Rick Rubin, Madge was not satisfied with the current studio work. So after listening to Sepheryn, she gave Orbit control of the production of the already-made demos and anything else he could come up with. 
Encompassing acid electronica, the song clocks at 126 beats per minute. It is composed in the key of B♭ major with Madonna singing in 2 octaves and one semitone. The main synth drives the song with a rock riff supporting the song's soundscape. This is Madonna's highest pitch in the album and one of the few in her discography; Orbit pushed Madonna to hit the highest vocal she could. Listeners can hear her voice crack a few times in the final mix; something Orbit calls "an edge." The instrumental of Ray of Light takes you on a journey much like Hung Up, so many instrumentations are playing at a rapid pace battling for each listener's ear… right vs. left output. The lyricism alludes to the subjects' phase of alignment and understanding of the world around them, something Madonna can relate with the birth of her child and conversion to the Kabbalah religion (and studying Hinduism).  This song is #1 for me because its a world-builder for the album, the lyrics are purely poetic; the instrumentation is a landmark of a music shift that reaches close to euphoria. And it is an example of innovation where classical music meets electronic production.
Madonna is known for being present at the conception of a song, whether or not she is the one that comes up with the idea. But her contributions to the additional lyrics and vocal styling of an existing song marks Ray of Light as one of the best pieces of modern music in history.
The following articles have a better count of the song's story:
Other songs to check out! :
Like a Virgin, Isla Bonita, Human Nature, Vogue, Frozen, Erotica, Why's It So Hard, Take a Bow, Survival, Candy Perfume Girl, Shanti/Ashtangi, Don't Tell Me, Hollywood, Isaac, Spanish Lesson, I Don't Give a (ft. Nicki Minaj), I'm a Sinner, Medellin (ft. Maluma), God Control, Faz Gostoso, I Don't Search I Find
Do you agree or disagree with my choices? Let me know in the comments below, or on Instagram! Share this article as well!